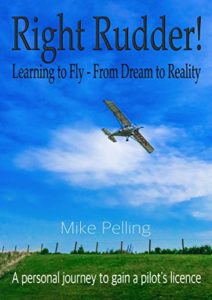 Ever since he was a young boy, Mike Pelling was fascinated by aeroplanes, and dreamed of one day learning to fly. At the age of 42, his dream finally became a reality, when he gained his National Private Pilot's Licence after training in microlights – and later bought his own aircraft. This entertaining and informative book charts Mike's personal journey from novice flier to qualified pilot – and the highs and lows along the way.
"This school supports the BMAA
Two Two Fly is the brain child and passion of Greg Burns a flying instructor from the Stanstead Airport area in Hertfordshire and Cambridgeshire. It has become one of the most exciting and complete sporting experiences to be found anywhere in the United Kingdom. Greg started flying when he was given a trial flight voucher as a Christmas present and from the first moment in the air he discovered that this was where he was meant to be. Greg embarked on a journey starting as a student pilot and culminating in the exciting Two Two Fly Microlights experience. After qualifying as a pilot Greg spent hundreds of hours flying before joining an instructors course in Portugal. After returning to the United Kingdom Greg worked at both Hunsdon Airfield in Hertfordshire and Sandy Airfield in Bedfordshire where he accumulated many hours both flying and teaching. Greg has many accolades as both a pilot and teacher and his energy and enthusiasm is infectious. Greg is now demonstrating the capabilities of flexwing microlights at various airfield events and displays across the country. So many people have been caught up in the Two Two Fly phenomenon that the expansion of Greg's flying school and the corporate events business was a logical next step. In 2012 Greg has added the fixed wing microlight experience with the purchase his first Ikarus C42. In 2015 Two Two Fly has purchased the well know Kent microlight strip in Middles Stoke. The fleet has now grow to four Ikarus C42s. 2022 Two Two Fly closed Stoke Airstrip and has join the GA world and now have a base at Rochester Airport Kent
Popular Flying Experiences
What our customers say?
What Existing Customers Say About TwoTwoFly and why they love it
Yesterday you introduced me to micro-lights and on reflection I can only think how caring and professional you were. More than that, you took time, trouble and effort to make sure I got the most from the experience that I could. For me it was a pretty awesome experience I did want to drop you a line to thank you very sincerely.
Learning to fly is truly putting your life in the hands of an expert. Greg has not only shown his skill as a highly accomplished and skilful pilot but is able to motivate and inspire through his passion and dedication to his students. Greg has developed a huge network in the world of Microlight flying attracting accolades, recommendations and admiration from his peers as well as his students. Greg's tenacity and integrity shows in his teaching and his charisma shows in his capacity to make an exciting experience addictive fun.
Greg is an inspirational and dedicated professional, with a larger than life character that is balanced with a focused determination to achieve what ever goal is targeted.
Just a quick email to say thanks and how fantastic the training flight was. Your skill at instructing is perfect in every way and manages to instil confidence and takeaway any worries that may arise.
Experience what it feels like to fly through the clouds